Frequently Asked Questions
What is an Investment Advisor?
An Investment Advisor is someone in the business of giving advice about securities to clients. For instance, individuals who receive compensation for giving advice to individuals on investing in stocks, bonds, or mutual funds, are Investment Advisors. Some Investment Advisors manage portfolios of securities to achieve client objectives.
Why Use an Independent Investment Advisor?
Independent Financial Advisor:
An independent financial advisor is a professional practitioner who functions in a conflict-free environment. Being an Independent Practice, we are able to offer a wide range of financial advice to our clients, and are able to offer totally unbiased advice on all financial matters. We look at the criteria that will benefit you: service, the financial strength of the provider, charges and costs, past performance and so on.
The Benefits of Working with an Independent Financial Advisor:
An independent financial advisor is a professional practitioner who functions in a conflict-free environment. The benefits of using the services of an independent financial advisor accrue to the investor throughout the relationship.
When designing your portfolio, we are free to consider all of the thousands of investment alternatives available today. There are no artificial limitations, monthly prizes or annual awards or Company driven objectives as to which investments you can use since we are independent financial advisors.
When building your portfolio, we can weigh the merits of one investment against another, recommending investments only because they will contribute to the success of your investment strategy. There is no pressure, and no incentive, to sell you proprietary products.
When assessing your portfolio's performance, we can use objective criteria to gauge the performance of each investment. An expert financial advisor can help you track the progress of your portfolio toward the financial goals you have set, and advise you when it is appropriate to make changes and when it's time to stay put.
We believe independence is essential.
Moreover, there are many additional reasons for utilizing a professional to assist you in managing your investments or retirement funds. Over the years we have found that the reasons our clients have utilized our services include:
Potential Personal Risk:Experience and skill should  be the foundation for managing the assets an individual will rely on for their future security. Our clients look to us for assistance rather than risk their retirement on their decisions alone.
Lack of Time: Properly managing an investment program takes time and experience that most people do not have or do not wish to commit.
Lack of Information: Although the Internet and Financial programs like CNBC have made information about companies much more available, the real information upon which investment decisions should be based must still be obtained through direct contact with companies, extensive research, and skilled analysis.
Proven Track Record: We find that many of our clients select our services because of our performance and services over time. Although past history is no guarantee of future returns, using an established, proven investment program adds a degree of confidence going forward.
Personal Financial Services: Since we maintain a close, personal relationship with our clients, we are often asked for advice on a broad range of financial matters. We can help a client in the overall coordination of their retirement and investment planning and management
What questions should I ask when choosing an Investment Advisor or Financial Advisor?
Here are some of the questions you should always ask when hiring any financial professional:
What experience do you have, especially with retirees or pre- retirees?
What licenses do you hold? Are you registered with the SEC, a state, FINRA, or the NASD?
What products and services do you offer?
Can you only recommend a limited number of products or services to me? If so, why?
How are you paid for your services? What is your usual hourly rate, flat fee, or commission?
Have you ever been disciplined by any government regulator for unethical or improper conduct or been sued by a client who was not happy with the work you did?
Be sure to meet potential advisers "face to face" to make sure you get along. We offer a 'no obligation' first consultation so that you have every opportunity to ask questions and feel comfortable with our answers.
In addition, remember: there are many types of individuals who can help you develop a personal financial plan and manage your hard–earned money. The most important thing is that you know your financial goals, have a plan in place, and check out the professional advisor you choose with your securities regulator.
How are Investment Advisors paid?
Before you hire any financial professional–whether it is a stockbroker, a Financial Planner, or an Investment Advisor–you should always find out and make sure you understand how that person is paid. Investment Advisors generally are paid in any of the following ways:
A percentage of the value of the assets they manage for you , usually ranging from 1.05% to 2.25%
An hourly fee for the time they spend working for you
A fixed fee
A commission on the investments they sell
Some combination of the above.
Each compensation method has potential benefits and possible drawbacks.
Do Investment Advisors have to register with the U.S. Securities and Exchange Commission?
Depending on their size, Investment Advisors have to register with either the SEC or the state securities agency where they have their principal place of business. For the most part, Investment Advisors who manage $25 million or more in client assets must register with the SEC. If they manage less than $25 million, they must register with the state securities agency in the state where they have their principal place of business.
Are Investment Advisors required to have credentials?
Investment Advisors and Financial Planners are not required to obtain professional credentials by all federal or state laws. Unlike federally registered advisers, many states do require their advisers and representatives to pass a proficiency exam or meet other requirements.
Investment Advisors and Financial Planners may come from many different educational and professional backgrounds. Before you hire a financial professional, be sure to ask about their background. If they have a credential, ask them what it means and what they had to do to earn it.
Also find out what organization issued the credential, and then contact the organization to verify whether the professional you're considering did, in fact, earn the credential and whether the professional remains in good standing with the organization. You can find out the different types of testing and other requirements on the website of the North American Securities Administrators Association.
Once my financial plan is completed, will our relationship end?
The actual engagement of services may end as you are not committed to a long term relationship, but the majority of our clients choose a long term relationship. Because financial planning is a process, not an event, we offer ongoing services, periodic reviews and day-to-day consultation as requested and/or needed.
How can I get started?
The first step is an initial inquiry from you. Call us at 800-957-5604 ext 200, or contact us using the form on our home page.
Should you decide to engage our services, we can discuss which of our services and client tracks is appropriate for you. Most clients find the financial planning process to be stimulating and enlightening. The result, of course, is greater peace of mind. We look forward to helping YOU build and maintain your wealth by planning your future today, before tomorrow comes!
Virtue Disclosure
Investment advisory services offered through Virtue Capital Management, LLC (VCM), a registered investment advisor. VCM and Secured Financial Solutions LLC are independent of each other.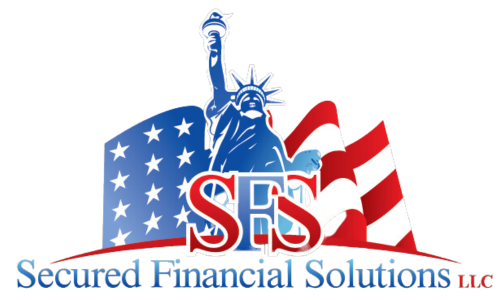 INVESTMENT ADVISORY SERVICES OFFERED THROUGH VIRTUE CAPITAL MANAGEMENT, LLC (VCM), A REGISTERED INVESTMENT ADVISOR. VCM AND SECURED FINANCIAL SOLUTIONS LLC ARE INDEPENDENT OF EACH OTHER.